News
2019.12.23
The 28th International Conference on Plastic Optical Fibers (POF2019) was held on Nov. 20th-22nd, 2019.
The 28th International Conference on Plastic Optical Fibers (POF2019) was held at Hiyoshi Campus of Keio University from November 20th to 22nd, 2019. Number of registered participants in academic session reached to 144, and participants in special session (open program) was 280.
On the first day, the conference began with Plenary Talks; "Silica or Polymer: Which is the better?" by Prof. David N. Payne, Director of Optoelectronics Research Centre, The University of Southampton, and "5G Data Center for DX in CASE+AI Era" by Mr. Hiroshi Fujiwara, Chairman and CEO of BroadBand Tower Inc.
Following the Plenary Session, KPRI International Symposium which was open to the public entitled "Towards 8K, 5G Era" was held as the Special Session of POF2019. In this symposium, we invited key persons as Special Speakers who delivered highly valuable presentations on current cutting-edge technologies; Mr. Keiji Kodama, Director of Engineering Administration Department of NHK on the new 4K/8K Satellite Broadcasting, Mr. Motoyuki Ii, Senior Executive Vice President of NTT on 5G and beyond IOWN (Innovative Optical & Wireless Network), Prof. Makoto Suematsu, President of AMED on IRUD (Initiative on Rare and Undiagnosed Diseases).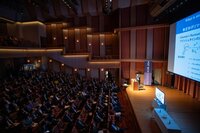 Furthermore, the latest achievements of Nitto/ Keio University Optical Cable Joint Research Center towards spread of POF in the future was presented by Mr. Toshiyuki Umehara, Senior Executive Vice President of Nitto Denko Corporation and Prof. Yasuhiro Koike, Director of KPRI. KPRI's vision towards the further development was shared with researchers and general participants of both Japan and abroad. In addition, a latest commercial product of GI-POF connected transmission system for the new 4K/8K satellite broadcasting aiming the Tokyo Olympics was demonstrated, which participants could experience its performance and the simplicity of connection of GI-POF.
Oral and Poster Sessions were held on November 21st and 22nd. We had 17 prominent Invited Speakers who delivered their POF research progresses and shared the latest information on POF market. Discussions on the latest studies were held actively among researchers, scientists and engineers related to plastic optical fiber from Australia, Brazil, China, Taiwan, Cyprus, Germany, Greece, South Korea, Lithuania, Malaysia, Portugal, Spain, United Kingdom and the United States.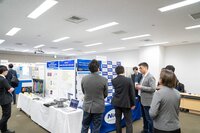 In POF2019 Exhibition, there were 13 exhibitors presented POF related products and how much had they progressed in realization of their R&D achievement.