K2 Town Campus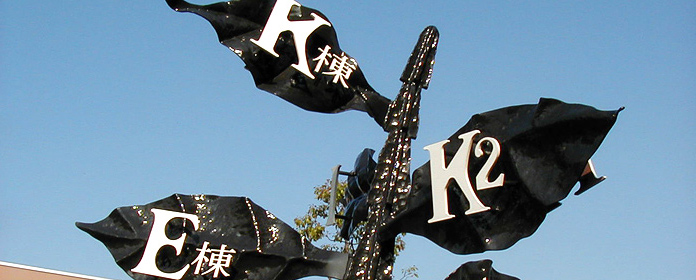 Keio University's Shin-Kawasaki Town Campus (K2 Town Campus) was established in collaboration with the city of Kawasaki, in spring 2000 as a research facility engaged in advanced industry-government-academia joint research.
K2 (K square) gets its name from its two partners, Keio University (K) and Kawasaki City (K). It expresses the concept that by working together, not just the sum, but the square of its parts can be achieved. Of course, it also alludes to the traditional town square.
「The campus is home to the Shin-Kawasaki Frontier Research & Education Collaborative Square. This cutting edge, collaborative, research oriented center exists outside of the conventional academic research campus, crossing freely over boundaries of faculty, graduate and undergraduate studies.
Since 2007, two major MEXT (Ministry of Education, Culture, Sports, Science and Technology) projects have commenced, sparking even further research activity. ("Formation of Innovation Center for Fusion of Advanced Technologies" and Global COE, both funded by Special Coordination Funds for Promoting Science and Technology)
In spring 2003, seven of Keio University's entrepreneurial research projects have moved into the adjacent Kawasaki Business Incubation Center (KBIC), and today several of these flourish as successful venture companies.
From 2010, the Cabinet Office FIRST(Funding Program for World-Leading Innovative R&D on Science and Technology) has funded our major R&D project, the "Creation of Face-to-Face Communication Industry by Ultra High-Speed Plastic Optical Fiber and Photonics Polymers for High-Resolution and Large-Size Display", and KPRI (Keio Photonics Research Institute) has been established as its support base.
■Frontier Research Projects
On this premises surrounded by 2 hectares of greenery, we have 14 frontier industry-government-academia joint research projects in progress, cross-cutting over each faculty and graduate study. Roughly 400 of our staff, including graduate students, joint researchers, and foreign researchers work night and day towards new innovation.
■ Contributing to Society through Frontier Research
We spearhead industry-government-academia collaborative projects to strengthen our community, and reciprocate the benefits of our frontier research and soft assets. We do so by supporting the technology advancement of local companies, hosting corporate seminars, creating connections between industry and laboratory, and fostering economic development through the creation and cultivation of new industries.
■ Contributing to Society through Science Education and Enlightenment
Working closely with our community, we offer a variety of learning experiences such and seminars and youth programs available to the public, taking initiative in the enrichment of our society through the study of science.
---
Shin-Kawasaki Frontier Research & Education Collaborative Square Administration Office
Aside from managing the research facility, our administration office works towards promoting partnerships between industry and the university. Through enhanced communications with the community, the office strives to inform the outside world of the results of our on-campus research, by hosting seminars and lectures open to the community and private sectors, in cooperation with our laboratories.
K2 House
At the K2 house, you can find Keio University meeting rooms, and sleeping facilities for our researchers. Also the management office and meeting rooms for the "Shin-Kawasaki Souzou-no-mori" project run by the Kawasaki city Public Corporation for Urban Improvement is housed here as well.