Introduction of Director / Deputy Director
Breaking down the academic boundaries of photonics field and polymer field, we have proposed various polymers with novel functions by dating back to the essence of optical functions that would occur in the interaction of photons and polymers. In our proposed project entitled "Creation of Face-to-Face Communication Industry by Ultra High-Speed Plastic Optical Fiber and Photonics Polymers for High-Resolution and Large-Size Display" in Funding Program for World-Leading Innovative R&D on Science and Technology (FIRST) , we have comprehensively conducted various R&Ds making full use of novel functions of photonics polymer technologies that were born in our laboratory, such as the world's fastest graded-index polymer optical fiber (GI POF) that has an overwhelming bit rate and optical functional films for high definition and large display, etc.
At the end of the FIRST program, the world's fastest GI-POF which we have proposed was commercialized, and "Novel Liquid Crystal Display" made by novel photonics polymers such as light scattering optical polymer and zero birefringence polymer. Furthermore, numerous results were achieved; "Super Birefringent Film" which was born in the FIRST Program, was largely reported in the top page of Nikkei dated February 4th 2013, and it was also widely adopted as liquid crystal display film. These technologies resulted through the FIRST Program have been used in the new 75th memorial building completed its construction in January 2014 in the Faculty of Science and technology, and has also been used in Keio University School of Medicine. In School of Medicine, remote lectures on cutting-edge endoscope surgery and otolaryngology 3D video lectures, which are realized by the world's fastest GI-POF and high-definition and large size display, have been highly evaluated.
Currently in Japan, we are aiming for the realization of 4K/8K transmission towards the Olympic and Paralympic Games in Tokyo to be held in 2021, however, many issues and problems still remain unsolved. In fact presently, we would still need thick cable for transmitting 4K/8K video data real time. We want to establish means of transmission that is bearable for massive volume data that increases along with demand for the higher-definition display, and against increase of noise, etc. We are still halfway to realize the true display that satisfies the 8K standard.
I truly hope that the results of GI-POF and displays developed based on novel photonics polymers will be increasingly returned to society, and that the era of true real color 8K images and 5G, and even the post-5G era, will someday be closer.
April 1st, 2020
Yasuhiro Koike

Professor, Keio University,
Director, Keio Photonics Research Institute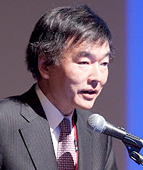 Yasuhiro Koike
Distinguished Professor, Keio University
Director, Keio Photonics Research Institute
  

Biography
Mar. 1982

Ph.D. in Engineering, Graduate School of Engineering, Keio University

1989 - 1990

Research Staff at AT&T Bell Laboratories

Apr. 1997 - Mar. 2020

Professor of Faculty of Science and Technology, Keio University

Nov. 2010 - Mar. 2020

Member of Board of Councillors, Keio University

Apr. 2020 - present

Distinguished Professor, Keio University
Research Activities
1995 - 1998

Kanagawa Academy of Science and Technology "High-Speed POF Project", Project Leader

1998 - 2001

Project Leader of "Plastic Optical Fiber Project, Telecommunications Advancement Organization of Japan (Budget of Posts and Telecommunications)

1994 - present

Chair of Plastic Optical Fiber (POF) Consortium

1998 - present

General Chair of International Cooperative of Plastic Optical Fiber (ICPOF)

2000 - Sept. 2005

Research Director of "Koike Photonics Polymer Project", Exploratory Research for Advanced Technology (ERATO), Japan Science and Technology Agency (JST)

Oct. 2005 - Mar. 2011

Research Director of Koike Photonics Polymer Project, Japan Science and Technology Agency (JST) ERATO- Solution Oriented Research for Science and Technology (SORST)

Mar. 2010 - Mar. 2014

Core Researcher, Funding Program for World-Leading Innovative R&D on Science and Technology (FIRST Program)

Dec. 2013 - Nov. 2017

Research representative for practical application of zero birefringence adhesive to high-definition, large-screen liquid crystal displays, JST Adaptable and Seamless Technology Transfer Program (A-STEP) through Target-driven R&D

Apr. 2015 - Mar. 2020

"Research and Development of Advanced Information Technology based on Photonics Polymers", JST Strategic Promotion of Innovative Research and Development (S-Innovation) Program

Apr. 2015 - Mar. 2019

Research representative for the development of high-performance liquid crystal displays using photonics polymer technologies, JST Newly extended TEchnology Transfer Program (NexTEP)

Jan. 2016 - Jan. 2017

Research representative for "Realization of Ultralow Power Consumption 8K Network Society based on Plastic Optical Fiber" adopted by Advanced Research Program for Energy and Environmental Technologies, New Energy and Industrial Technology Development Organization (NEDO)

Oct. 2016 - Mar. 2019

Research representative for development of birefringent controlled film realizing high-definition displays", JST A-STEP Stage II

Jan. 2017 - Mar. 2018

"8K Ultra-high Definition (UHD) Rigid Endoscopic System with Super Eye Sight" adopted by Japan Agency for Medical Research and Development (AMED)

Jun. 2017 - Feb. 2018

Research representative for "Realization of ultrahigh-speed IoT society by noise-less graded-index plastic optical fiber", adopted by Small-scale R&D for Peripheral Technology and/or Related Subject of Cross-Cutting Technology Development Project for Promoting Internet of Things (IoT), NEDO
Awards
1994

Society of Plastic Engineers (SPE), International Technology Award -Fred O. Conley

1996

Optoelectronic Industry and Technology Development Association, Kenjiro Sakurai Memorial Prize

1995

Nikkei BP Technology Award, Information System Prize

1996

Office of Naval Research 50th Anniversary, Distinguished International Lecture

2000

Award of Society of Fiber Science and Technology, Japan

2001

The Fujihara Award, 2002 The Award of the Society of Polymer Science, Japan

2004

The Incentive Award of Takayanagi Foundation for Electronics Science and Technology

2006

Purple Ribbon Medal from Palace

2007

The 2007 MOC Award

2009

"Nice Step Scientist" by National Institute of Science and Technology Policy for distinguished contribution "Fundamental research and realization of high-speed plastic optical fiber" to the science and technology in 2009.

2013

The Mukai Award

2015

SID Special Recognition Awards

2020

SPSJ Award for Outstanding Achievement in Polymer Science and Technology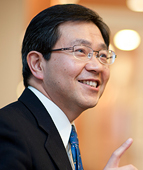 Tetsuya Toma
Deputy Director, Keio Photonics Research Institute
Professor, Graduate School of System Design and Management, Keio University
Ph.D. in System Design & Management, PMP (Project Management Professional)
Biography
1988

Master of Science in Engineering, Keio University

1988 - 2001

Engineer, Sumitomo 3M Limited

2001 - 2007

Advanced Product Development Specialist, 3M Company, USA

2007 - 2008

Researcher, Japan Science and Technology Agency

2008 - 2016

Associate Professor, Graduate School of SDM, Keio University

2010 - present

Deputy Director, Keio Photonics Research Institute

2016 - present

Professor, Graduate School of SDM, Keio University

2019 - 2020

Visiting Scholar, SDM Program, Massachusetts Institute of Technology
Researching about


Prof. Toma has been researching on "Face-to-Face Communication System" at KPRI. As its representative applications, telemedicine and remote medical education are the major themes to co-work with medical doctors in School of Medicine, Keio University, and some of our systems are moving forward to practical uses. He also researches on designing a system of high-speed optical home network using GI-POF, such as an optical connector and peripheral devices.

Research Field


Program/project management and communication design for communities such as medical/health care, education or local resource utilization.

Committee Member


Board Members of International Cooperative of Plastic Optical Fibers (ICPOF)
Deputy Chairman, POF Consortium
Director (Board Member), Japan Creativity Society (JCS)
Director of Global Accreditation for Project Management Education Programs (GAC), Project Management Institute (PMI)

Books


Graduate School of System Design and Management in Keio University (Ed.) (Co-author), "What is System Design and Management," Keio University Press, (2016). (in Japanese)
Tetsuya Toma (Supervised Translation), Nanaumi Nagamine (Translation), "Leading Global Project Teams: The New Leadership Challenge," Keio University Press, (2015). (in Japanese)